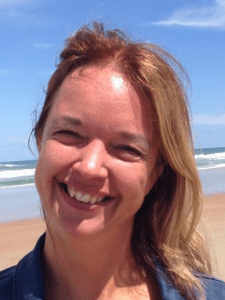 Hey, wat leuk dat je langs komt om uit te vinden wie ik ben, als persoon en als professional.
Hoe ik inbound marketing terecht ben gekomen
Een jaar of 20 geleden werkte ik als product manager. De persoon die verantwoordelijk was voor onze website, verdween vrij plotseling en wij bleven achter met een website die half af was. Op dat moment was het niet makkelijk om aan goede ontwerpers te komen, en ik had vrij snel iets nodig om aan clienten te kunnen laten zien. Ik heb dus een stapel boeken uit de bibliotheek gehaald en binnen twee weken de site afgemaakt.
Nu ik terug kijk, is dat eigenlijk het steeds terugkerende patroon in mijn professionele leven. Ik raak met iemand in gesprek en regelmatig vraagt zo iemand me om hulp met iets wat ik eerder succesvol heb gedaan. Vervolgens popt er iets op wat in het verlengde daarvan ligt, krijg ik de vraag of ik dat ook kan, of daarin kan adviseren. Voor ik het weet heb ik weer een nieuwe vaardigheid aan mijn gereedschapskist toegevoegd, en zo heb ik me steeds verder als digitale marketing specialist ontwikkeled.
Internationaal en multicultureel
Ik ben weliswaar in Nederland geboren en opgegroeid, maar ik heb 15 jaar van mijn leven in het buitenland gewoond. 12 jaar hiervan op het prachtige eiland Curaçao, en bijna 3 net buiten Perth in Ontario,Canada.  Daardoor heb ik inmiddels voor bedrijven over de hele wereld gewerkt: Van Nederland tot Polen, Curaçao, Canada, de Verenigde Staten en zelfs Australie.
Onroerend goed en financiele dienstverlening
Door de jaren heen heb ik mij steeds meer gespecialiseerd in het werken met ondernemers in de onroerend goed sector en in de financiële dienstverlening. Ik heb gewerkt met makelaars, projectontwikkelaars, financieel adviseurs en een payment service provider.
Meer weten?
Als je meer over mij of mijn diensten wilt weten, laten we dan een virtuele meeting inplannen. Ik zie er naar uit om over jouw bedrijf te horen en uit te vinden of en hoe ik kan helpen.